Stephens' Solutions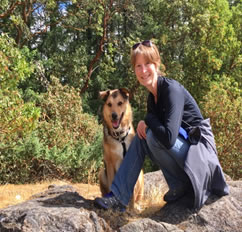 Offering Individual, one-on-one dog training sessions … for those clients whose dogs needed a little extra, were too aroused or afraid in a setting with other dogs, strange people and lots of distractions.  Private sessions were essential in setting these dogs up for success in their homes and in their real-life situations.
Emphasizing and Specializing in developing and nurturing your relationship with your dog, based on mutual trust and cooperation.
Alison embraces force-free, positive training methods using techniques to provide you with the skills to have a well-mannered dog that is a joy to live with.
About Me
Alison is a Certified Professional Dog Trainer (CPDT) and a Karen Pryor Academy – Certified Training Partner, and has been training dogs AND people for 10+ years. Serving the Westshore community.

A recent arrival from Calgary, Alison is thrilled to call Victoria home now and lives with rescue dog Jonah and cats Martin and Rocco. Doc, her quarter horse is still going strong at 33 years of age!